"So to keep me from becoming conceited because of the surpassing greatness of the revelations, a thorn was given me in the flesh, a messenger of Satan to harass me, to keep me from becoming conceited" (2 Corinthians 12:7 ESV).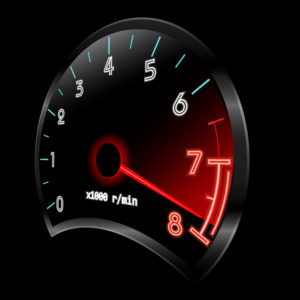 Many automobiles and motorcycles feature a tachometer as part of their instrument package. A tachometer is a type of gauge that monitors engine revolutions per minute (or "RPM"). Many tachometers feature a "redline" that identifies the safe RPM limit for each engine.
This is useful information for a motor vehicle operator, for an engine that consistently operates above its redline is one that is in danger of failure. Because of this, a driver is advised to stay below that mark in order to maintain a safe operating range.
In one respect, Paul the Apostle was given a similar redline in the form of this "thorn in the flesh" here in 2 Corinthians 12:7. When we consider the extent of Paul's work, it becomes easier to understand why God allowed this issue to enter his life. You see, it is difficult to underestimate the extent of Paul's impact upon human history. God worked to shape innumerable lives throughout Paul's first-century ministry and that work continues today through the inspired Biblical letters that bear his name.
However, the extraordinary nature of the revelations Paul received from God could have easily pushed him past his "redline" to a place where he might have acquired an inflated opinion of himself. Therefore, this thorn in the flesh (whatever it was) served to neutralize any tendency towards pride, arrogance, or conceit and helped ensure that Paul maintained a sense of humility.
While we don't know the exact nature of Paul's condition, we do know it's origin: it was "…a messenger from Satan to torment me and keep me from becoming proud" (NLT). So much like Job's experience in the Old Testament, it appears that Satan (or one of his demonic representatives) was permitted to harass Paul with this painful affliction.
Like the relentless pounding of the sea upon the rocks, this thorn in the flesh buffeted Paul and humbled him. Thus this "messenger" kept Paul from exalting himself as a result of these extraordinary visions and revelations. Paul's example also serves as an important caution for anyone who may be tempted to seek God for similar visions or revelations today. As one source observes in commenting on Paul's experience, "The chastisement from hell follows soon upon the revelation from heaven." (1)
(1) Jamieson, Robert, D.D.; Fausset, A. R.; Brown, David. "Commentary on 2 Corinthians 12:4". "Commentary Critical and Explanatory on the Whole Bible". https://www.studylight.org/commentaries/jfb/2-corinthians-12.html. 1871-8.