"Let no one deceive you with empty words, for because of such things God's wrath comes on those who are disobedient.  Therefore do not be partners with them" (Ephesians 5:6-7 NIV). 
Shortly after The Doctor got his driver's license, he bought his very first car. Being the mild-mannered individual that he is, The Doctor would occasionally take his shiny new ride down to the local drag race track. This particular race track had a large grandstand near the pits where people could sit, talk, have something to eat and enjoy the races.
Now while the cars were entering the staging area prior to each race, it wasn't uncommon for spectators who were watching from the stands to bet money on which car would be the winner. Sometimes during these races, an unfamiliar car that looked and sounded really, really fast would pull up to the starting line. The gamblers who were watching the races from the grandstand would often see such cars and think, "That car is going to blow everything else off the track- I'm going to place my bet on that car!"
Unfortunately for them, there were many times when a car that looked really fast before the race actually turned out to be slower than dirt once the race began. You see, there were some cars that looked really good on the starting line but looks can sometimes be deceiving. Once the race was over, everyone knew which cars looked fast and which cars really were fast.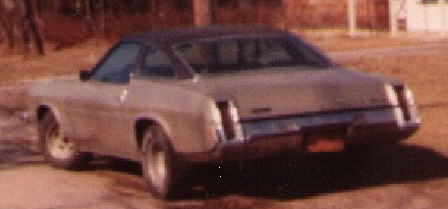 The Doctor's first car shortly after he got it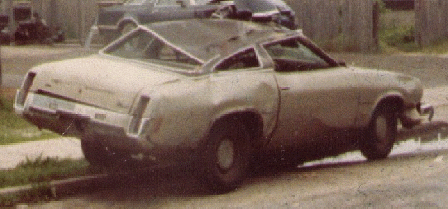 The Doctor's first car shortly after he got done with it
Like a race car that's all looks and no action, Ephesians 5:6 also warns Christians not to be fooled by teachings that may look and sound good but really aren't. For instance, in saying, Let no one (or "don't allow anyone to") deceive you, the Scriptures indicate that it's our responsibility to make sure that we aren't mislead by those teachings or beliefs that go against what God says is true.
You see, every Christian has a responsibility to be familiar enough with the Bible and it's teachings to be able to tell which beliefs and opinions are truthful and which ones aren't. Now this doesn't mean that we can't ask for help and advice from others when it comes to spiritual questions or different ways to apply God's Word in our daily lives. In fact, The Doctor believes that it's a good idea to bring those questions and issues to someone like a Pastor, Youth Pastor or other church leader who can offer some help and direction from God's Word.
However, every Christian should definitely make it a point to develop enough Biblical knowledge to be able to tell the difference between those ideas and beliefs that line up with the Scriptures and those that don't.
"For you were once darkness, but now you are light in the Lord. Live as children of light (for the fruit of the light consists in all goodness, righteousness and truth) and find out what pleases the Lord" (Ephesians 5:8-10 NIV). 
In this section, the Bible talks about Christians actually being "light" or a source of illumination to others. This means that every Christian has the incredible privilege and ability to help enlighten others who may be in the dark. Jesus also touched on this idea in a message that He gave to His followers…
"You are the light of the world. A city located on a hill can't be hidden. People don't light a lamp and put it under a basket but on a lampstand, and it gives light to everyone in the house. In the same way, let your light shine before people in such a way that they will see your good works and glorify your Father in heaven" (Matthew 5:14-16 ISV).
The next few verses in Ephesians chapter 5 then go on to talk about how this concept plays out in the lives of those who live for God…
"Have nothing to do with the useless works that darkness produces. Instead, expose them for what they are. It is shameful to talk about what some people do in secret. Light exposes the true character of everything because light makes everything easy to see. That's why it says: "Wake up, sleeper! Rise from the dead, and Christ will shine on you" (Ephesians 5:11-14 GW).
The person who chooses to live a God-honoring lifestyle will naturally tend to bring light upon others- including those who may prefer to stay in the dark. These situations always carry the potential for conflict and Jesus once again explains why…
"This is the verdict: Light has come into the world, but men loved darkness instead of light because their deeds were evil. Everyone who does evil hates the light, and will not come into the light for fear that his deeds will be exposed. But whoever lives by the truth comes into the light, so that it may be seen plainly that what he has done has been done through God" (John 3:19-21 NIV). 
People who prefer to stay in the dark will naturally avoid the light and this is sure to have an impact on those who are serious about living "as children of light… in all goodness, righteousness and truth" as we read earlier. This may be one reason why Ephesians 5:15 warns us to "Be very careful, then, how you live– not as unwise but as wise" (NIV).
This idea of "acting wisely" refers to the good judgment that comes from knowing what to do with the facts in a given situation. When it comes to wisdom, the Old Testament book of Proverbs tells us that "…the reverence and fear of God are basic to all wisdom. Knowing God results in every other kind of understanding" (Proverbs 9:10).
This means that the person who acknowledges God and treats Him with the respect that He deserves starts with the basic building materials that are essential for making smart choices. However, this also means that people who have no respect for God and want to live as if He did not exist start from a position that's sure to lead to unwise choices that will get them into trouble eventually. That's the difference between living "…not as unwise but as wise."