At just five chapters and eighty-nine verses long, the New Testament book of 1 Thessalonians is one of the shorter Biblical epistles. However, this brief letter offers a wealth of valuable information on a variety of topics for anyone who is seeking greater spiritual insight from the Scriptures.
The first-century city of Thessalonica was originally known as Thermai, a word that means "Hot Springs." However, the origin of Thessalonica is perhaps better known for its association with Alexander the Great, the famous military leader. Around 315 B.C. a military general in Alexander's armed forces named Cassander established a city at Thermai and renamed it after his wife who was Alexander's half-sister.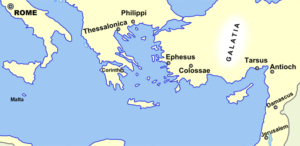 Much like the ancient Biblical cities of Ephesus and Corinth, Thessalonica also served as a hub for commercial activity in the Biblical era. For instance, the city featured a good harbor on the gulf of the Aegean Sea near the Mediterranean ocean. That location made it ideal for those who wished to travel by sea or anyone who wanted to send or receive goods by ship.
However, Thessalonica was also located along a major Roman thoroughfare called the Egnatian Way or the Via Egnatia. This ancient highway provided travelers from the capital of Rome with easy access to points east. This roadway, along with the city's flourishing seaport, helped establish Thessalonica as an important destination for commerce or travel by sea and land.
Because of this, it should not be surprising to learn that Thessalonica featured a highly diverse population. At its peak, ancient Thessalonica likely served as home for over 200,000 people, including Greeks, Romans, Jews, and others from the outer reaches of the Roman Empire and beyond. Thus, the cosmopolitan metropolis of Thessalonica became a wealthy and influential city within the Roman Empire.
Thessalonica eventually grew to become the capital city of Macedonia, a region that encompassed the northern portion of Greece. Thessalonica also enjoyed the status of a "free city" while under Roman rule. This offered a great degree of freedom for the political leaders of Thessalonica and allowed them to establish a local government without the influence of Roman military personnel or other restrictions imposed by the Roman Empire.
Unlike some other cities mentioned in the Bible, the New Testament city of Thessalonica continues to exist today as the modern-day city of Salonika or Thessaloniki, the second largest city in Greece. We'll continue our survey of ancient Thessalonica with a look at the origin of the church there next.
Image credit: User:Alecmconroy [CC BY-SA 3.0 (https://creativecommons.org/licenses/by-sa/3.0)] https://commons.wikimedia.org/wiki/File:Broad_overview_of_geography_relevant_to_paul_of_tarsus.png